STAY IN THE TRUTH ~ PASTOR CHRIS OYAKHILOME. Therefore we ought to give the more earnest heed to the things which we have heard, lest at any time we should let them slip (Hebrews 2:1). When you read our opening verse in some newer translations, it seems to suggest that it's referring to us slipping off what we've learnt or have been taught. For example, the NIV says, "We must pay the most careful attention, therefore, to what we have heard, so that we do not drift away." Whereas, the King James Version seems to be saying we shouldn't allow what we've learnt, or the truth, to slip away from us. However, whether it's you allowing the truth to slip away from you, or you're the one drifting away from the truth, the point is, losing what you've learned or have been taught. If it left you, or you left it, the result will be the same. You're supposed to be together or be one with the truth; what you've learnt shouldn't leave you, and you shouldn't drift away from it either. 2 Corinthians 13:5 says, "Examine yourselves, whether ye be in the faith; prove your own selves…" In your life, are you following the direction that the Lord gave you, or are you drifting away? Are you doing the things He asked you to do? Look through the instructions you were given in the Word of God, or even in your local assembly, and be sure that you're walking in the direction that the Lord gave you. It's important that you reflect on your life and be sure that you're walking in sync with the Spirit; you're following God's plan for your life. It's the ministry of the Holy Spirit, not only to teach you, but also to remind you of all He's taught you. If you give Him your attention, He'll guide you aright always; Jesus said He'll guide you into all truth. Trust Him with your life, and He'll lead and guide you in God's perfect will for you. PRAYER Dear heavenly Father, I thank you for the words of inspiration and instructions you pass to my spirit by the Holy Ghost; I make full-proof of them, living the triumphant life you prearranged for me before the foundations of the world, in Jesus' Name. Amen. #istandwithpastorchris #themonthoftruth #yourloveworldspecials #healingstreams #vision400 #affirmationtrain #prayingnow #stillpraying #wordfest3 #rhemafortoday #healingschool #FollowPastorChris #talkingsession #thankyoupastorchris #8dayofmeditation #truth #hspc #atmophereofmiracles #europaforjesus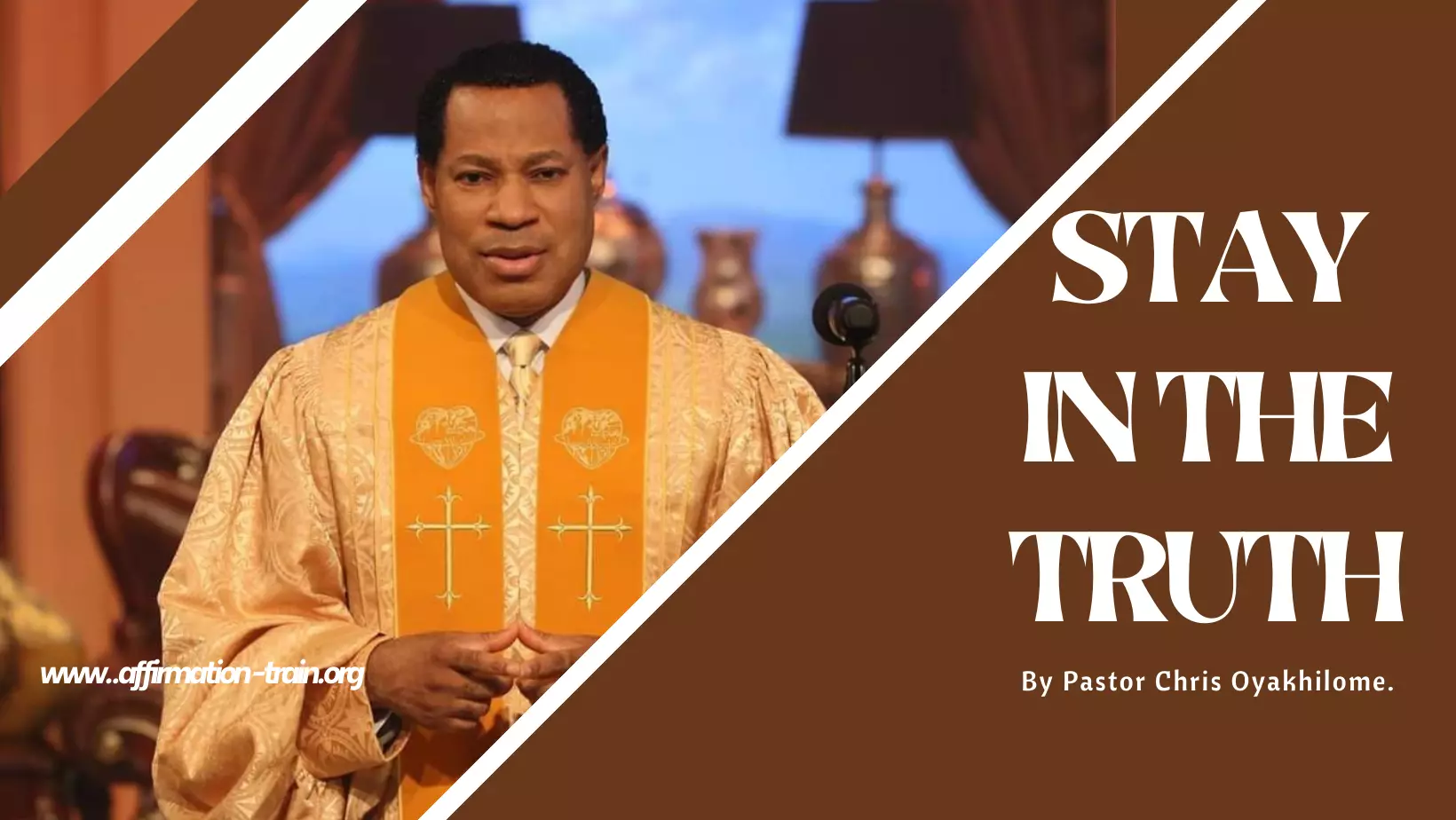 justine
commented:
In Jesus name Amen ?
Rusiate Doidoi
commented:
Amen. Praise God. Hallelujah. Blessed be the name of Jesus.
SA ZONE 2 RHAPATHON DAY 13 WITH ESTEEMED PASTOR LAWRENCE VIDEO HIGHLIGHTS ?? #CESAZONE2 #KEMPTONPARKGROUP #20MILLIONCOPIESDONE #VISION20FOR20
???????????BREAKING NEWS- NEW PROGRAM ALERT ON LXP Watch Rev Tom on THIS LIFE, showing on Loveworld XP every Thursday by 8:00pm (GMT+1). Don't watch alone, call your family and friends, and get transformed to a higher level of glory. #CEMCABUJA
#worldsno1author #worldsgreatestauthour #iamaworldchange #blwcampusministryrocks #blwzonec #blwgroupC
Happy birthday dear & beloved Pastor Esther! Thank you for your remarkable contributions & commitment to the work of the ministry in Canada region Your excellent spirit is evident in all you do. I celebrate you today & love & appreciate you dearly ??
???PRASIE CONCERT LIVE??? The first of its kind right here on Loveworld UK!? On Friday 23rd April, We are bringing you a power packed concert with award winning, hit worship songs! That's not all?…. in commemoration of World Book Day we are bringing you a book review on one of the classics by Our dear man of God, "Recreating Your World". You don't want to miss this, see you at 7pm GMT+1? #LoveworldUK #SpreadingLoveChangingtheWorld #LoveworldNetworks ????: Watch Loveworld UK on ?: LIVETV Mobile App ?: https://loveworlduk.org/watch-live/ ?: Loveworld UK 3.0 Mobile App To Partner/Contact us Call: +442075115830 Email: sponsors@loveworlduk.org; info@loveworlduk.org
SA ZONE 2 RHAPATHON DAY 13 WITH ESTEEMED PASTOR LAWRENCE PHOTO HIGHLIGHTS ?? #CESAZONE2 #KEMPTONPARKGROUP #20MILLIONCOPIESDONE #VISION20FOR20
SA ZONE 2 RHAPATHON DAY 13 WITH ESTEEMED PASTOR LAWRENCE PHOTO HIGHLIGHTS ?? #CESAZONE2 #KEMPTONPARKGROUP #20MILLIONCOPIESDONE #VISION20FOR20
#REBROACAST #PROJECT1600C #DSPCEUKZONE3
It's 1 Day To Go! ?WORLD BOOK DAY ??? Celebrating the World's Greatest Author and World Changer, Rev. Dr. Chris Oyakhilome Starting April 23rd – May 31st 2021 #worldsno1author #worldsgreatestauthor #imaworldchanger #CEJOS #CEMINNA #CEGOMBE #NCZ1