CHOSEN TO BELIEVE THE TRUTH BY PASTOR CHRIS OYAKHILOME. But we are bound to give thanks always to God for you, brethren beloved of the Lord, because God hath from the beginning chosen you to salvation through sanctification of the Spirit and belief of the truth: Whereunto he called you by our gospel, to the obtaining of the glory of our Lord Jesus Christ (2 Thessalonians 2:13-14). God chose you to salvation through sanctification of the Spirit and belief of the truth. This is amazing. He chose you for salvation, but that salvation could only work for you through two factors: the Holy Spirit sanctifying you, and you believing the truth! If you didn't believe the truth–the Gospel–He couldn't have consummated your salvation. So, the Holy Spirit sets you apart (consecrates you) to believe the truth; it's part of His glorious ministry in your life, for it takes the grace of God to believe the truth. There're people who only believe lies, as though they were programmed that way; they're always in conflict with the truth. But isn't it wonderful to know that you were chosen to believe the truth? When the Word of God comes to you, as it does every day through this devotional, your heart is ready for it; you receive it gladly, because you've been chosen, and you have the ability, to believe the truth. The beautiful thing about God's truth is that it always lifts, strengthens and protects. His truth never deceives; moreover, it's not difficult to recognize; it's expressed in His love; it's always unmistakable. Halleluiah! The Lord Jesus, in His prayer to the Father in John 17:17 said, "Sanctify them through thy truth: thy word is truth." God's Word is truth, and truth means reality. You've been sanctified by the Spirit to know, believe, and walk in the realities of our heavenly Kingdom. It brings to mind the words of the Master in Luke 8:10: "…Unto you it is given to know the mysteries of the kingdom of God…." PRAYER Dear heavenly Father, I thank you for choosing me to know and believe the truth, and walk in the reality of my heavenly inheritance. Your Word lifts, strengthens, protects, and guides me today, as I give attention to it! Thank you for the manifestation of your glory in me as I live by your Word, in Jesus' Name. Amen. #themonthoftruth #wehavemoved #8DOM #rhemafortoday #talkingsession #yourloveworldspecials #affirmationtrain #wordfest2021 #8daysofmeditation #prayathon2021 #thankyoupastorchris #strengthened #preparation #wordfest3 #healingstreams #hspc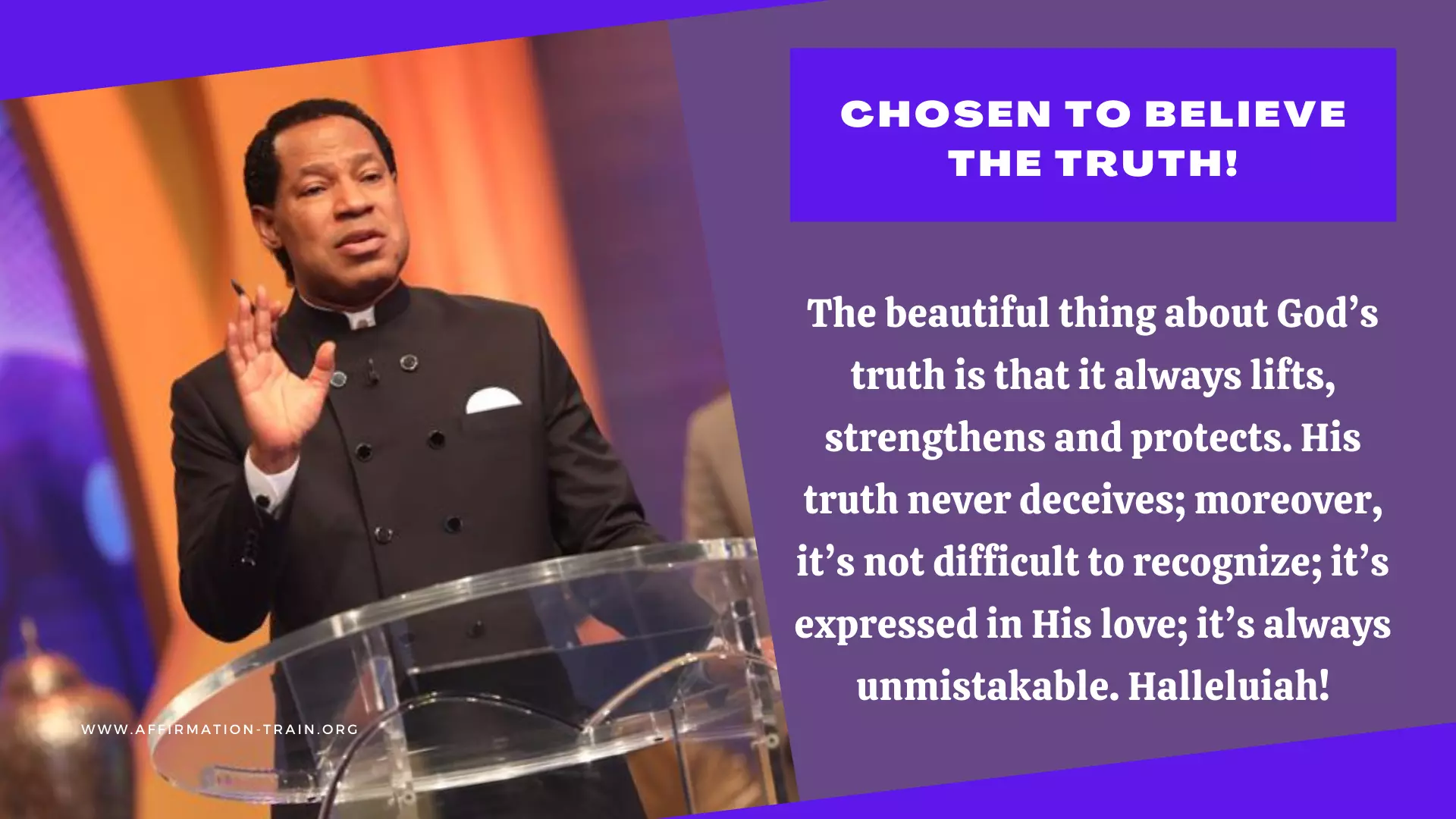 Martha Ayongagwe Abah
commented:
Amen I chose to walk and live by Truth.Hallelujah I will never walk the wrong path in the mighty name of Jesus.
?GLORY TO GOD? "Every satanic effort to dominate the nations is ruined," ???? Be a part of another glorious and knowledge filled episode of 'Your LoveWorld Specials', with our Highly Esteemed Reverend, Doctor Chris Oyakhilome Dsc. Dd. ?????????? Make sure you are tuned into LOVEWORLDCAN.CA at 2:00pm #YourLoveWorld #LoveWorldCAN #LoveWorldNation #PastorChris #POse
Pastor leads in a special time of prayer of agreement! #project1millioncopies #ceabakaliki #prayingnow #soulwinnersbootcamp #service
HAPPY HAPPY HAPPY BIRTHDAY TO A KINGDOM GOAL GETTER!! CELEBRATING PASTOR TONY ADUROJA!! Thank you so much for all you do in ministry. Especially for your exceptional love and brotherhood which can never be measured. I love you specially. This is the best year of your life!!!
Call to worship! #project1millioncopies #ceabakaliki #prayingnow #soulwinnersbootcamp #service
#StillPraying #Day98 (pt 1) #photospeaks – inspiring prayer sessions led by groups from CE Region 2 Zone 3, United Kingdom; CE South-West Zone 1, CE Lagos Virtual Zone and CE Aba Zone, in Nigeria! #prayingnow #prayathon2021 #PCLprayathon2021 #iamapriestinoffice
HAPPY BIRTHDAY TO MY ESTEEMED ZONAL PASTOR, PASTOR TONY ADUROJA !!! ????? #PTA1404 #LIFEISEASY #LMAMUKZONE2 #UKZONE2 #LWNORWOOD #NORWOODCHURCH
???? ? ? It's Day 4 Of Our *21-Day Expose On TRUTH* ? . Learn More About *The Dew Of Heaven* – In Today's Teaching. ? ????? https://pastorchrisdigitallibrary.org/exposeontruth/lwsazonec #Exposeontruth #A21DAYSTUDY #watchonpcdl #MonthofTruth #blwsazonec
Happy birthday to the Highly Esteemed Zonal Pastor, Pastor Tony Aduroja. Thank you for your labour of love and all you in BLW nation. We love you sir!